I feel we are making strides on a very important project for adventure tourism in Bell County. We are hoping to gain legal access to about 700 or more miles of ATV and horseback trails here in Bell County. If we are successful, we could have approximately 900 legal miles (including the off-road park) of multiuse trails in the county.
To put that in perspective - that is almost double what the entire Hatfield McCoy system (6 counties in West Virginia) currently is…In one county.
And that doesn't even include the miles and miles of hiking trails within the National and State parks here.
We've recently compiled somewhat of an informal committee to help execute this project, which basically entails gaining legal trail access for both horseback riders and ATV riders to two large parcels of land combining to total approximately 50,000 acres. The larger chunk is around Middlesboro and is around 35,000 acres and the other is near Right Fork and is about 15,000 or so.
Make no mistake, if this project is successful, it will make Bell County the premier destination in trail sports and outdoor recreation on the east coast and possibly the entire country. This is my opinion of course, but honestly if we are able to gain access to these lands…they contain such a wealth of potential in outdoor recreation that it would be almost impossible for it NOT to be able to be one of the top destinations for trail enthusiasts. You have views like the pictures below, coupled with hundreds of miles of world class trails. Add to that the fact that visitors will have a major hub of commerce in Middlesboro right outside of these trails where they will able access hotels, a mall, restaurants, etc…and it makes this project almost too good to be true from an adventure tourism perspective. All the necessary components are here to make this project a runaway success and in the process, it has the potential to positively impact our county in a way no other ever has. Again, that's my opinion, but it's one I feel extremely confident in (and I am usually pretty skeptical).
View of Middesboro and the Cumberland Gap and Tunnel
Little Clear Creek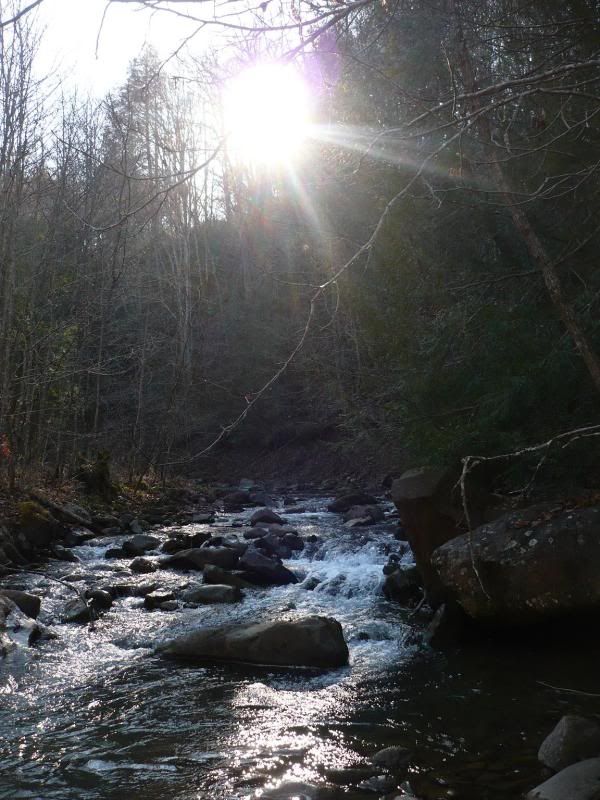 Sunset over the mountains of Bell County
Today (January 13, 2010), local politicians and concerned citizens met with officials from Fish and Wildlife including one person high on the hierarchy chart, about two issues. One was the problem that the elk are causing in some parts of the county. The other issue was concerning having legal access to areas that Fish and Wildlife manages in the county by ATV or horseback, which is only logical when you consider 1) the size of these areas 2) the ruggedness of the terrain and 3) the overwhelming support of this concept from local citizens.
The good news?
They listened
.
They have now pledged their support in helping making the above project a reality for Bell County, something that had been hard to get in the past. But now it seems they understand more of the complexities concerning public hunting land access in our county and why a change has to be made, even if it is something that is usually contrary to what they as an organization try to promote. Our WMAs (Wildlife Management Areas) are extremely different from most others inside the state due to the aspects I mentioned above, and I believe now that we have Fish and Wildlife's support in this matter, that we can make a real positive stride in helping convince the landowner that allowing these types of access can not only benefit the community – it will also help Fish and Wildlife and the landowner.
We have prepared a detailed package to the landowner describing the many various ways that the Fiscal Court; as well as local citizens and civic organizations, can help the landowner. From trash pick up, to helping report poachers, to helping report wildfires, to marking trails and access points, there is a lot we as a community can help with and must help with if we are to make this a success.
I for one am very hopeful that this project comes to fruition, because I honestly think it can do something for this county that has never been done before – put it on the map for something positive.
Keep in mind we have one hurdle left – the major one – convincing two major landowners that this can be a success. But if we can clear this hurdle, and I am hopeful we will, then I know from here that the project will be a success.
Stayed tuned…And wish us luck. And when we have a public meeting – come out and show your support for this. We will keep everyone informed.
Thanks for the support thus far and with everyone's help, we can accomplish all this.
Hope you all are well.
Jon