I hadn't realized it had been so long since I'd wrote a blog entry concerning adventure tourism. I figured it would be a good idea to let everyone know what we've been up to this year thus far.
We received a grant from Yamaha totaling almost $31,000 for improvements to Wilderness Trail Off-Road Park. We purchased everything from chainsaws, weed eaters, and trail mowers to a club trailer, park signs, and items for campsite developments (grills, wood for shelters, etc…). We are in the process of utilizing these items. We hope to have a few campsites up by this upcoming spring and a lot of the trail signs are already on the park. We thank Yamaha for allowing us to develop our park with improvements such as these. Without their generosity this may not have been possible.
In some other exciting news, we just finished an event called the Harbell Ride Weekend. This event was originally supposed to be held as a park to park ride with the Ridge Runners, but we had to cancel that idea due to some land issues. The good news is that both counties off-road parks were visited by none other than Brian Fisher and crew, and were filmed for an upcoming episode of Fishers ATV World. This episode is tentatively schedule to go on air in October sometime, and we will keep everyone posted on the forum as soon as we have more info. We had a good event the day that Fishers came to our park, with an estimated 500 or so folks riding on the park that day. We had some great guided rides, and then met up that evening for a pig roast and some live music from Kentucky Rain and Asa Mills. Brian Fisher said he really enjoyed the event, and was nice enough to stay long into the night signing autographs and taking pictures with folks. I have to say it went down as one of our best events ever.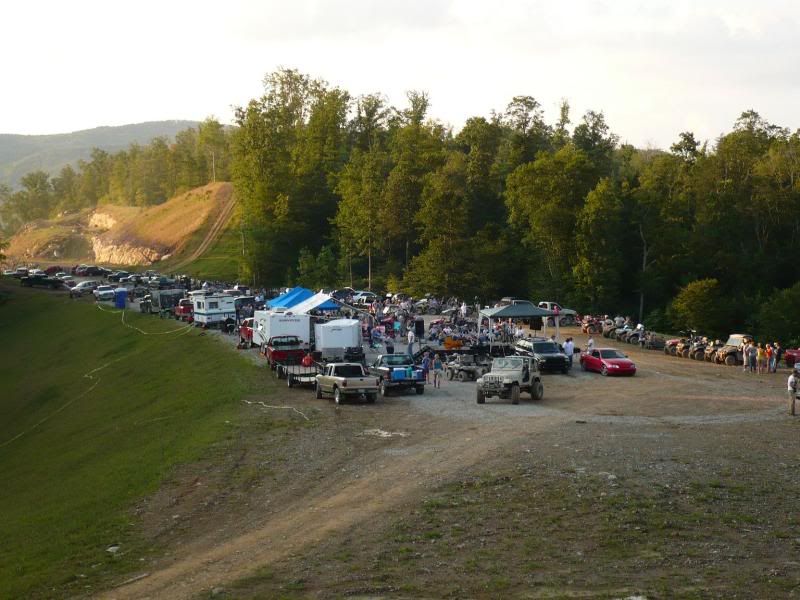 We have also had several other rides this year to help raise money for different charities. Earlier in the year, we had 3 rides and helped raise several thousand dollars for the March of Dimes Foundation, Relay for Life, and the children of Sean Pursifull. We are thrilled that our club has generated a good name in the community for helping raise some money for such great causes such as these.
Our schedule rolls on through the late summer and fall, with two rides left on the 2009 schedule. First up we have our now-annual weekend with our good friends in the Southern SXS Riders. This bunch came up last year and came in strong numbers, and our clubs quickly became good friends. They had such a good time that they decided to make Bell County an annual stop on their schedule, and we couldn't be happier. They are a great group of folks who know how to have a good time on and off the trail, so we get along like peanut butter and jelly. This event will be September 18, 19, and 20 and will only be open to members of each club. If you are interested in joining either, you can contact both clubs during the event about membership. This is looking to be a great time and the Holler Crawlers are looking forward to it.
After the Southern SXS Rider Weekend, we have one more event on our schedule. This is a family oriented event that will take place the weekend before Halloween and will be called the Holler Crawler Haunted Forest Ride. This ride will take place on Wilderness Trail Off-Road Park (Mountain Drive) and will feature an easy ride through the woods, which will be decorated in Halloween attire. There may also be another ride that is more challenging that will go through a scarier, more haunted part of the mountain. Later that evening we will roast some marsh mellows and hot dogs by the campfire. Looking to be a great time and it will be a great ride to check out all the fall foliage in southeast Kentucky.
Also, before I wrap this blog up, I wanted to thank the Robbins family who live on Hances Creek. They have generously allowed visitors to Wilderness Trail Off-Road Park access to some trails that were on their property. These include some great trails like 18, 32, and 23. We as Holler Crawlers will help them watch after and upkeep the property in return for this favor.
Folks, that's it for now. Thanks for checking in and make sure to keep up with all our latest by joining our forum. See ya'll on the trail!
-Jon